MIT World Peace University (India) is a Partner of APBM International Conference
International collaboration is always an opportunity to grow professionally and educationally by learning from different cultures and countries. It is always a door to a new world with new opportunities and horizons.
APBM Conference – International Conference on Applied Psychology and Business Management – became a platform to bring together academicians and practitioners from different countries and discuss current problems within psychology, business world and social sciences as a whole.
We are very happy that the initiative of IATELS to launch APBM Conference and hold it annually was supported by MIT World Peace University (MIT-WPU) in India (Pune, Maharashtra, India).
With a great motto "Union of Science and Spirituality alone
will bring peace to mankind" MIT World Peace University became an educational establishment which is very active in education and science, working to occupy a leading position of University of Excellence in India and internationally.
The administration of the university and its academic staff work to promote the Culture of Peace through Value-based Universal Education System.
MIT-WPU prides itself on offering a holistic education catering to an individual's educational, physical as well as spiritual well-being.
The university's syllabus reflects their pursuit to balance the requirements of the industry along with advancement in scholarly learning.
The academicians and instructors work to apply teaching methods which would be a perfect blend of practical knowledge, industry visits, guest lectures, student exchange programs and rural immersion visits.
MIT World Peace University (MIT-WPU) belongs to MIT Group of Institutions, which was established as a society and charitable trust.
Since then, the MIT Group of Institutions has grown exponentially and has made a strong impact in the field of education throughout India.
Today, the MIT Group provides education in the fields of Engineering, Medicine, Pharmacy, Marine Engineering, Insurance, Distance Education, Telecom Management, Lighting, Design, Food & Technology, Retail Management, Masters in Business Administration, School of Government and School Education.
MIT World Peace University (MIT-WPU) supported the initiative to hold APBM Conference – International Conference on Applied Psychology and Business Management together with IATELS , entering a consortium of the organising committee as its active partner. The academicians of the university are actively involved into the development of the conference program, promoting the conference in India and becoming a representative of the event in their country.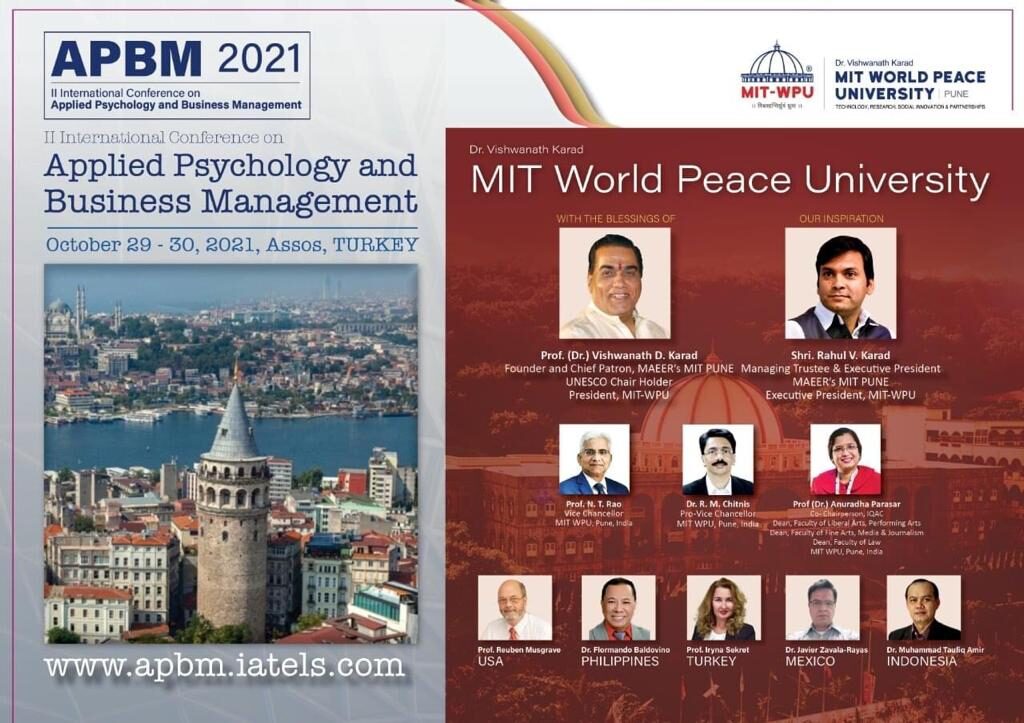 Prof. Anuradha Parser (Dean, Faculty of Liberal Arts, Fine Arts, Media & Journalism, Law) from MIT World Peace University became a representative of the university in the organising committee of APBM Conference and also its keynote speaker, who is going to present on "Family Relationship and The New Normal".
Together with Prof. Anuradha Parser, the conference participants will be greeted by Prof. Reuben Musgrave (USA), Prof. Iryna Sekret (Turkey), Dr. Baldovino (Philippines), Dr. Javier Zavala-Rayas (Mexico), and Dr. Muhammad Taufiq Amir (Indonesia).
IATELS, its activities and conferences are supported by STARTINFORUM International Project Management and Business Consultancy (Turkey), assisting in organising conference meetings, accommodation and logistics for the international tourism.
The participants of APBM 2021 who would like to participate in the conference in-person will be able to enjoy the travel to Turkey and get 2 nights accommodation in one of the best Assos resorts – Assos Dionysos Hotel at the very coast of the Aegean Sea.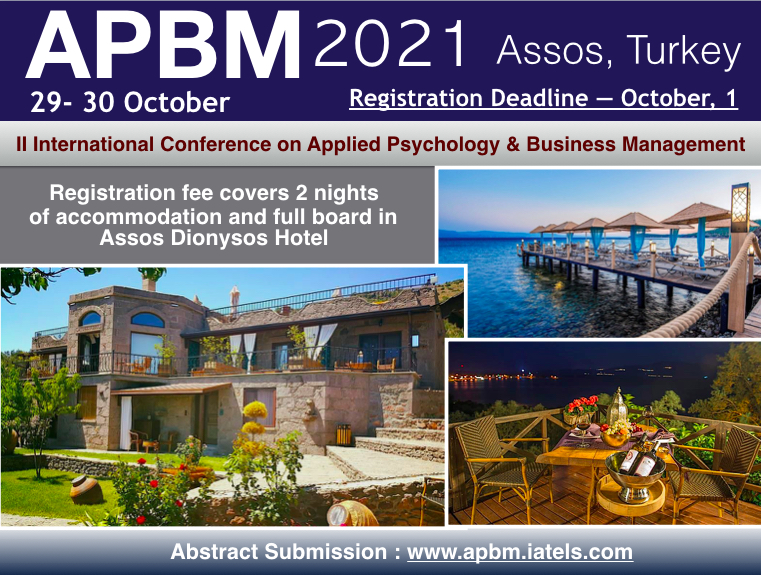 More about the APBM conference venue in 2021 and its accommodation opportunities can be found at the conference website.
APBM 2021 is scheduled on 29-30 of October, and going to included speeches, presentations and workshops within the following topics:
Business and Economic Strategies in the Global Lockdown;

Social, Economic and Political Processes;

Social Distancing and Personality;

Communicative Strategies and Behaviours;

Societal Processes and Behaviours;

Social Media: Roles and Functioning in the Conditions of Social Distancing;

Business Solutions in Crisis;

Technological Solutions for Businesses;

National and International Economics;

Transferring Business Online;

Functioning of the micro communities: family, organisation, formal and informal units;
Behavioural Studies;
Social Studies
Psychology of Business and Organisations;
Social Psychology
Psychology of Health and Well-being;
Leadership and management;
Health management, etc
The studies on other topics in psychology, social studies, economics and business management are welcome for submitting and including into the conference program.
All accepted abstracts are going to be published in the Book of Abstracts.
The full papers will be recommended for reviewing and publishing in one of the conference peer-reviewed indexed journals according to the profile of the journal and the submitted papers.
The Deadline of Abstract Submission is 1 of October.
Academicians and practitioners who would like to join with their studies as speakers can Submit their Abstract Here
It is going to be the second conference of IATELS within Psychology and Business, and it is believed that in a good unity of education and business, together with MIT World Peace University (MIT-WPU) in India, STARTINFORUM International Project Management and Business Consultancy in Turkey, and IATELS, which unites organisations and individuals from various countries of the world, there going to be much more opportunities for international collaboration, following the motto "Union of Science and Spirituality alone will bring peace to all mankind".
IATELS Board