APBM 2021 – II International Conference on Applied Psychology and Business Management
Dear Colleagues,
We would like to invite you to APBM 2021, II International Conference on Applied Psychology and Business Management, which is going to be held on 29-30 of October.
The conference is planned in a blended mode.
Online presenters will be able to join with their presentations within the days of the conference and participate in the conference discussions.
The participants who would like to travel to Turkey can enjoy 2 days of accommodation and a full board in Assos Dionysos Hotel, a beautiful resort at the very coast of the Aegean Sea.
The accommodation and full board are included in the registration fee for in-person participation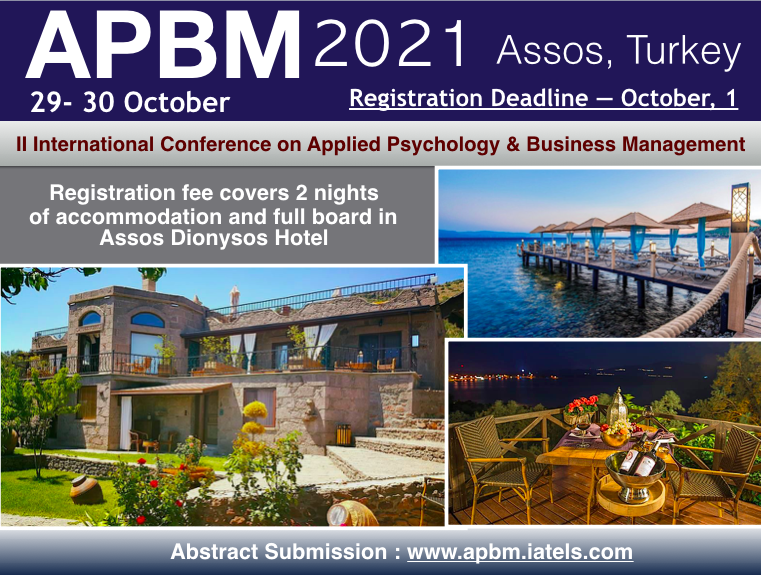 Other accommodation options can be checked at the website.
Within the topics of the discussion are as follows:
Business and Economic Strategies in the Global Lockdown;

Social, Economic and Political Processes;

Social Distancing and Personality;

Communicative Strategies and Behaviours;

Societal Processes and Behaviours;

Social Media: Roles and Functioning in the Conditions of Social Distancing;

Business Solutions in Crisis;

Technological Solutions for Businesses;

National and International Economics;

Transferring Business Online;

Functioning of the micro communities: family, organisation, formal and informal units;
Behavioural Studies;
Social Studies
Psychology of Business and Organisations;
Social Psychology
Psychology of Health and Well-being;
Leadership and management;
Health management, etc
The studies on other topics in psychology, social studies, economics and business management are welcome for submitting and including into the conference program.
All accepted abstracts are going to be published in the Book of Abstracts.
The full papers will be recommended for reviewing and publishing in one of the conference peer-reviewed indexed journals according to the profile of the journal and the submitted papers.
The Deadline of Abstract Submission is 1 of October
Please follow the link to find out more about APBM 2021, abstract submission and registration.
In case of questions and concerns please feel free to contact us,
APBM Organising Committee
IATELS Committee