Languages and Education During Global Lockdown
To support the international academic communication in the domains of languages, translation and education LASTE 2020 was held in the virtual mode.
The conference presenters shared their experiences, visions and perspectives upon the problems, concerning languages, discourse, translation and education revealed during the time of the global lockdown.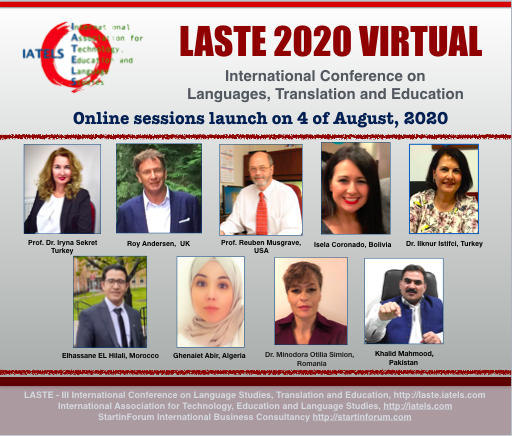 Among the cornerstone topics of LASTE 2020 Virtual were:
Teaching Languages Online;
Transferring from Traditional to Online Language Education;
Specifics of Designing Online Language Programs and Courses;
Social, Political and Cultural Discourse during Lockdown;
Discourse and Communications in Social Media;
Impact of the Discourses on the Individual and Social Wellbeing;
For more information visit LASTE Conference website and contact laste.iatels@gmail.com for more questions on participating in the conference and collaboration.