LASTE 2021 – Languages & Global Communication
We would like to invite you to our IV International Conference on Language Studies, Translation and Education, to share your experiences, visions and perspectives upon languages, discourse, translation, communicative strategies and education in the globalised communication environment.
Among the cornerstone topics of LASTE 2021 are:
Teaching Languages Online;
Transferring from Traditional to Online Language Education;
Specifics of Designing Online Language Programs and Courses;
Social, Political and Cultural Discourse;
Discourse and Communications in Social Media;
Impact of the Discourses on the Individual and Social Wellbeing;
Translation;
Semiotics;
Language Technologies;
ICT in Translation.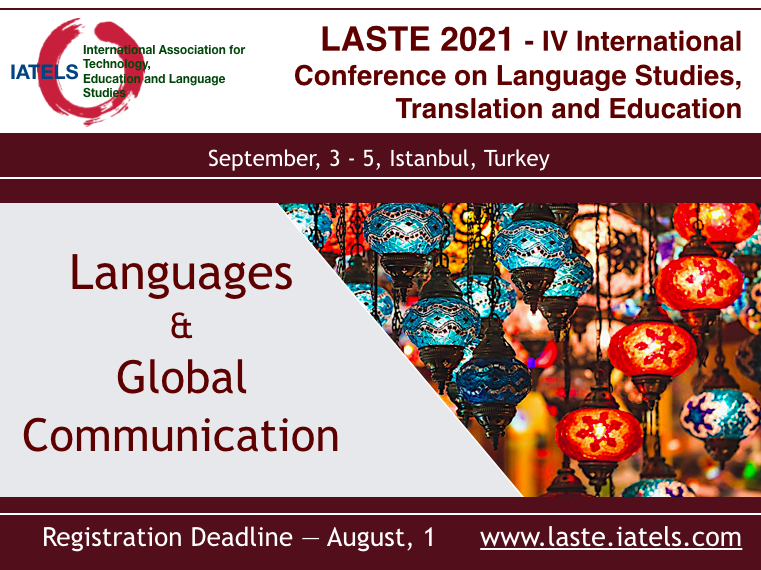 LASTE 2021 : Blending Tradition and Innovation in Language Studies, Translation and Education
We are looking forward to our LASTE 2021 Conference to be held in Istanbul (Turkey).
In close collaboration with experts from all round the world, through sharing experiences and best practices of nowadays we believe to take a step towards new research paradigms in Language Studies, Translation and Education, blending traditions and innovations, best practices and bold ideas to look ahead into the 21st century of education and research.
Please visit the conference official website to find out more, submit your abstract and register.
For more questions please feel free to mail to laste.iatels@gmail.com